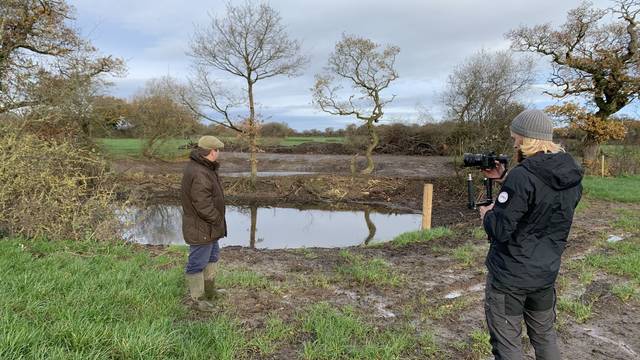 Our new film
Strengthening the environment and enhancing the natural capital in our small corner of the world is one of our big aspirations.
We have made a film about the many different elements that make up our environmental strategy.
In it, we talk about how we commissioned a Natural Capital Baseline Report across the Estate. This extensive and in-depth audit analysed our entire stock of natural resources – including biodiversity, air, water, woods and soil.
Our Environmental Strategy includes boosting riparian planting. We'll plant 7.5km of riverbank along the River Dee by 2030 to reduce severity of flooding, minimise soil run-off and help filter and clean river water.
We're working closely with Cheshire West & Chester Council to restore six ponds every year over the next decade as part of our Environmental Strategy to prevent water stagnation and promote aquatic life.
We will increase our hedgerows from 39km to 50km by 2030. We'll also allow our hedges to grow taller and wider to increase food, shelter belts and nesting sites to promote biodiversity.
We purposely leave margins around the outside of each crop field to allow it to rewild. We also plant wildflowers to attract insects
We survey all bird species on the Estate every three months. To date we have measured over 69 different species.
Five years ago, we introduced our first beehives onto the Estate to promote pollination across gardens, hedges, orchards and farmland.
We produce 15 million litres of milk on the Estate every year. We also voluntarily submit annual environmental assessment results of total carbon emissions for milk production. This helps us to improve on-farm efficiency.
Our land is a precious asset. Cared for properly its benefits can be without limit, which is why we constantly strive to preserve and improve it.
To watch the film please visit https://barnstonestate.com/ab...
Pagination