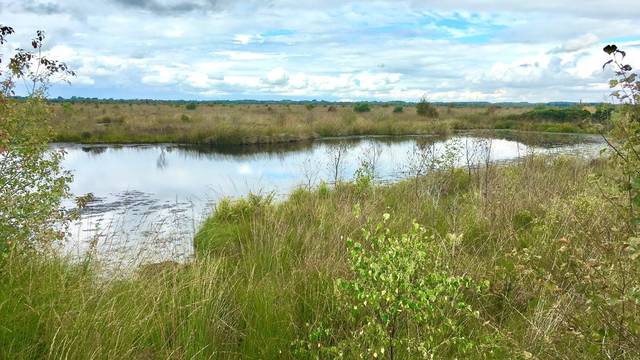 Protecting the planet with peat
On the border of Shropshire and Wrexham is one of the biggest and best raised bogs in the country.
Fenn's, Whixall and Bettisfield Mosses is a reserve with 18 species of bog moss. It is a remarkable place and home to a hugely varied wildlife.
Raised bogs are peat-forming ecosystems that have developed slowly over thousands of years, often with their origins in shallow glacial lakes. Peat bogs are vital for the planet as they act as a natural carbon store.
The bogs can be several metres higher – and are wetter - than the land around them. The peat acts as a sort of sponge, which enables it to retain rain water.
Over the last century, peat cutting and drainage has resulted in the loss of 94% of raised bog in Britain and 99% in Ireland, which releases harmful greenhouse gases and has an adverse effect on the climate.
Earlier this year, the UK's environment minister announced plans to ban the sale of peat compost to gardeners by 2024 and set aside £50m to restore 35,000 hectares of British peatland, about one per cent of the total.
The Barnston Estate owns a small land holding on the English/Welsh border by Fenn's Moss. It is a special place in that it is designated part of the Fenn's, Whixall and Bettisfield Mosses which is a Site of Special Scientific Interest, a Special Area of Conservation and also part of a National Nature Reserve (one of only seven in the country).
We are restoring our peat bog to maximise the sequestration of carbon dioxide, by drawing it down from the atmosphere through plants, especially Sphagnum mosses, and trapping it underground as carbon.
Our plan is to collaborate with Natural Resources Wales and Natural England to recreate the optimum peat bog conditions as part of our long-term environmental estate strategy.
Pagination