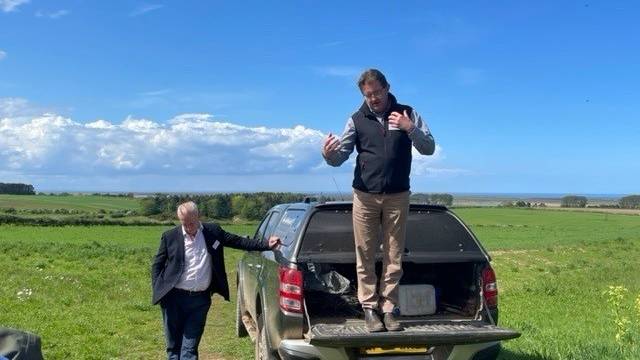 Wildlife Farms & Estates
Estate Manager Ed Barnston was one of a group of delegates invited to attend a symposium at Holkham Hall & Estate in north Norfolk.
Holkham, which is recognised at one of the UK's most diverse rural estates, is home to the Earls of Leicester who have owned land and property there for over 400 years.
Like the Barnston Estate, the estate is committed to farming, conservation and the local community.
A number of speakers took part in the Strutt and Parker sponsored symposium which focused on what Wildlife Farms & Estates can do.
There was a tour of Holkham, which focused on the farming enterprise and the benefits of accreditation, as well as a talk on forestry and woodlands.
WFE accreditation is the label of excellence in championing the enhancement of wildlife and biodiversity through independent assessment.
At Level One, there are ten fundamental principles in managing wildlife and biodiversity that have to be committed to.
Accreditation is awarded to farms and estates that provide evidence of holistic and sustainable environmental, economic and social land management practices - recognising the multifunctional role of rural business and land use.
When an estate has in place its strategy, management plans and baseline data, it can apply for Level Two accreditation.
Estate manager Ed Barnston said: "It was great to attend the Wildlife Farms & Estates symposium this week at Holkham Hall.
"The Barnston Estate is currently Level 1 WFE accredited but we are aspiring to achieve the coveted gold standard Level 2 over the autumn, for our regenerative farming work, peatland restoration and Churton Hall farmland works."
Pagination