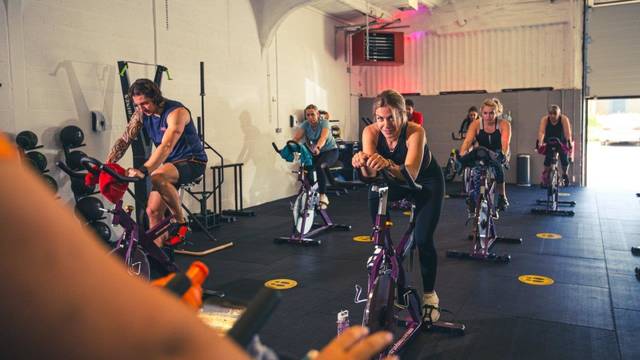 A chat with the owner of Aptitude Health & Fitness
In December last year, Gareth Preston opened Aptitude Health & Fitness inside a warehouse on the Barnston Estate's Monument Place Business Park in Farndon.
Gareth, a fitness instructor and personal trainer, had always aspired to open his own fitness studio.
His gym, which has already proved popular, is everything he says fitness should be about – fun, varied, accessible for all, affordable and results driven.
We had a chat with Gareth about his business:
Q: Tell us more about Aptitude and what you offer your customers.
Gareth: Aptitude is a privately-run gym and class facility offering 36 instructor led classes a week, Gym & 1-2-1 Personal training.
Classes include Yoga, Pilates, HIIT, Strength, Spin, Zumba & many more. All of our classes are led by highly qualified and experienced trainers from the local area.
We are all about community at Aptitude and have created a friendly environment accessible for all regardless of age or level of fitness.
I've always wanted to own my own fitness facility and I've got huge plans for the future.
Q: How did you get started and what gave you the idea?
Gareth: We opened in December 2020 purely offering fitness classes. Although challenging with government restrictions we had over 1,000 class visits in three weeks before lockdown forced us to close.
During lockdown, we rented out equipment including spin bikes to people in the local area and ran online classes 12 times a week.
We also took the time to invest into the business and develop the "gym" side of Aptitude which we opened in May this year when the restrictions were eased.
I have always worked in the fitness industry and live locally. I have always thought that Chester needed a class based and gym facility this side of town as there is nothing else. Having looked for the right premises for years, the site at Monument Place on the Barnston Estate in Farndon, Cheshire, came up and it was too good to turn down – even in the middle of a pandemic!
Q: What's a 'normal' day like for you?
Gareth: A normal day for me would be getting to work for 6am, teaching 2/3 classes a day, 3/4 private personal training sessions, setting up and checking in 5 further classes, cleaning, maintenance checks, admin and closing at 8pm.
Q: What's your favourite part of the job?
Gareth: Seeing people happy and enjoying their training. Owning my own facility has been a life-long dream. Everything I do here is for the benefit of our members and to improve the business.
Q: Whereabouts are you working in Cheshire, and tell us about working with other Cheshire independent businesses?
Gareth: We are based in Farndon, Cheshire at Monument Place on Churton Road. We are working closely with other local business such as Camilla Rose, The Scissor Psychologist, The Secret Spa & Webber Nutrition. We believe in working with and supporting local business as much as possible.
Q: How has covid affected what you do? Are you still able to trade in the same way?
Gareth: Covid delayed us opening fully but it also gave us more time to fine tune everything that we do and develop the best facility that we could from the start. It gave us an opportunity to reach out to potential members online prior to opening and connect with other local business. Although we would have preferred to be open, we used the time wisely and have a better facility for it.
Q: What are your plans for the year ahead please?
Gareth: We plan to develop a spin studio, build a café open to local residents and add changing facilities as well as continually develop the gym and class timetable when restrictions lift. We want to offer lots of community events and educational seminars on health and nutrition in addition to what we already offer. We are striving to be one of the best privately run health facilities in the country.
* Find out more about Aptitude here
Pagination