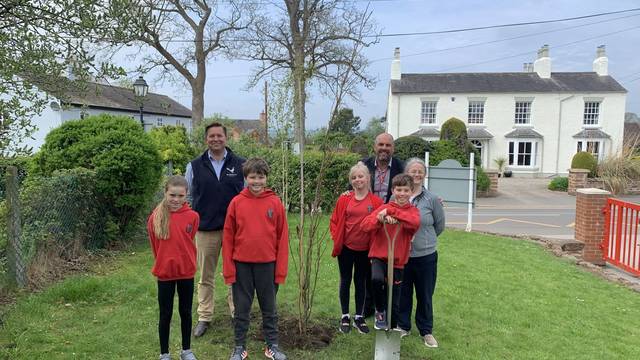 Barnston Estate helps Farndon Primary School plant Coronation tree
We've been helping a group of local children from Farndon Primary School to plant a tree to commemorate the King's Coronation.
The year 5 children, who are all part of the school's popular Gardening Club, joined Ed Barnston to plant the tree in the grounds of the school.
Ed provided the school with a Liquid Amber tree, known for its vibrant colours and maple-like leaves and helped the children - Felix, 9, Henry, 10, Phoebe, 10 and Zara, 10 - to dig a hole and plant it.
Keen gardener and nature expert Felix, who wants to be a scientist when he is older, said: "I'm looking forward to the King's Coronation and watching it on television. It's amazing. We've got Coronation plates in specially."
Zara said: "It was good to plant a tree to commemorate such a historic day and I'm looking forward to seeing it grow. We have been learning a lot about the Coronation in school over the past few weeks."
Andrew Walker, Head Teacher of Farndon Primary School, Churton Road, said: "We do mini projects every term and this term we have focused on the Coronation. We've discussed all sorts of topics from British values to the role of the monarchy through history and the children have been fascinated. They've also learnt a Coronation song which they'll perform to parents later this week.
"It was great to work with the Barnston Estate to plant a symbolic tree at the front of the school which all the children can enjoy seeing grow.
"This week we've also got a Coronation Bake-off, egg decorating, handmade bunting going up around the school and an exhibition of the children's Coronation artwork as well as lots of themed craft activities. It's very exciting."
Ed Barnston, Manager of the Barnston Estate, which said: "It was great to meet some of the children from Farndon Primary School and to get them involved with the tree planting.
"They really got stuck in helping to dig a hole and prepare the soil and asked lots of interesting questions about the type of tree and how it will change with the seasons. I hope it will bring decades of bright colour to the school grounds."
Pagination