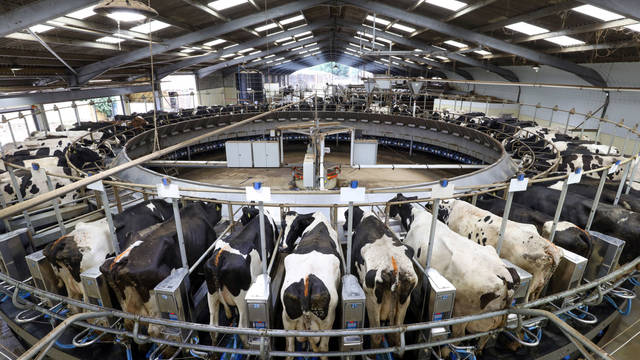 Barnston Estate inspires Reaseheath College student Jack
Jack Wilkinson, 18, is a student at Reaseheath College in Nantwich, Cheshire, one of the UK's leading land-based colleges.
He is half way through studying a Level 3 Advanced Technical Extended Diploma in Conservation and Wildlife Management. As part of his course he has been doing a 200-hour work placement on the Barnston Estate.
He said: "A love of farming and conservation is in my blood. My grandfather runs a mixed arable farm in Shropshire and I've been helping him do jobs on it since I was a small lad. He inherited the farm from his father.
"I have a passion for the countryside and ensuring what we can do to protect it for future generations. It's why I've loved my time on the Barnston Estate.
"Over the months I've done all sorts from leaf blowing and driving tractors to planting trees and hedges to moving cattle and feeding young calves by hand. A particular highlight was learning how to milk in the cutting-edge rotary milking parlour, something I'd never done before.
"Learning how to milk can be quite daunting. The dairy farm has hundreds of cows and followers – mostly Holstein Friesians - and you have to keep an eye on each one to make sure they've been milked properly. I was a bit slow to start with but you soon get used to it.
"The dairy farms on the Estate produce more than 16 million litres of milk every year for Muller Wiseman and Tesco.
"The machinery used on the farm is incredible. I wasn't expecting to see 500 horsepower tractors on a dairy farm – I'd associated them more with arable farming – but they are constantly in action carting away hundreds of tons of farm slurry.
"My time at Barnston has really opened my eyes to the work that is done on an estate. It's hard work, it's fun, it's so diverse and it is incredibly rewarding.
"Another moment that stood out for me was helping to transform a bare field margin that was just grass and a fence. We spent hours planting hawthorn hedges and by the end of the day it looked so different.
"It was great to see what a transformation our efforts had made. Knowing those hedges will be there for decades to come, and the importance of them as habitats for a wide variety of animals and plants, felt extremely special.
"When I finish college, my ambition is to start my own business as an agricultural contractor specialising in conservation and land management. I want to be able to use the skills I've learnt on my college course, at Barnston Estate and from Ed Barnston (I love his ethos and he inspired me to work even harder) to help other farmers with the practical management of conservation sites and the countryside."
Ed Barnston, who offers annual work placements to Reaseheath College students, said: "I'm so proud that we have such an exceptional college as Reaseheath in Cheshire. They produce some great students. Jack has got stuck in and done some really good work during his time with us."
For more information on Jack's course visit: https://www.reaseheath.ac.uk/further-education/courses/conservation-wildlife-management/level-3-diplomas-countryside-management/
Pagination