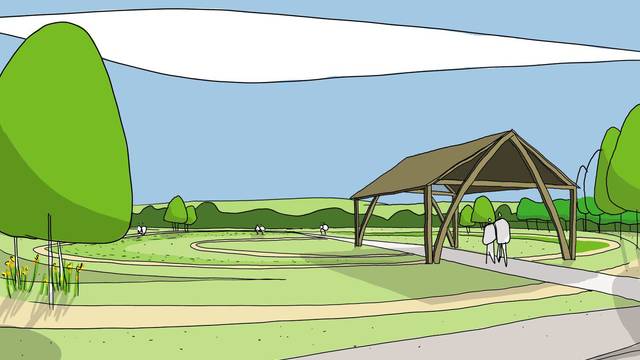 Barnston Estate receives planning permission for natural burial ground
We are delighted to be one of the first family estates in Cheshire to win planning permission to build our own natural burial ground.
We recently received planning permission from Cheshire West & Chester Council to build the new and natural burial ground on one of our fields.
Monument Meadow Natural Burial Ground will replace the burial ground at St Chad's in Farndon village and will also be made available for residents of surrounding villages.
Designed by Land Studio in Chester, a specialist landscape architect, the environment will be kept as natural as possible with a wildflower meadow and ornamental trees.
With its timber framed pavilion, circular layout and views stretching across the Clywdian Range, it has been designed to be a peaceful and beautiful place to visit. It will also provide a safe haven for birds and wildlife enabling wild flowers and trees to thrive.
The site is anchored with a Grade II* listed monument – a sandstone obelisk flanked by four stone lions - commemorating Roger Barnston, a military officer who died in 1857 of wounds sustained at the Siege of Lucknow in India.
Ed Barnston said: "Monument Meadow will be an essential community facility and a special place for people to think, reflect and to celebrate a person's life.
"We have given careful consideration to ensure that it is respectful to the surrounding landscape."
There are more than 270 natural burial grounds in the UK, where interment occurs in a way that is beneficial to the environment, and they are increasing in popularity.
At Monument Meadow, the burial ground is intended to be a natural one with caskets made of natural materials with no formal markers. It will change with the seasons over time and support a variety of flora.
The site's designer Simon Richards, of Land Studio, said: "With its views across to the Welsh hills, its flowing parkland environment and its peaceful setting this will be a beautiful place for people to visit.
"The environment of the natural burial ground will be kept as natural as possible so it integrates into the landscape creating a restful space that will mature over time.
"Planting will be predominantly limited to native species of trees, hedging and wildflower meadow varieties."
Rosie Inman-Cook, manager of the Association of Natural Burial Grounds, said: "We have seen a record number of planning permission requests for natural burial grounds this year.
"A well run natural burial funeral offers something very different to the usual burial service choices. Families get a time rich funeral, they feel less processed and they're often more affordable.
"A natural burial ground is also better for the environment as it provides a permanent protective space for wildlife. Most importantly, families have somewhere beautiful to visit – a living legacy."
Work will start on the site in September with an expected open date of Easter 2021. Types of plots available include natural burial plots, interment of ashes and scattering of ashes. Pre-purchasing of plots is now available.
Please get in touch via the contact page on our website if you would like further information.
Pagination