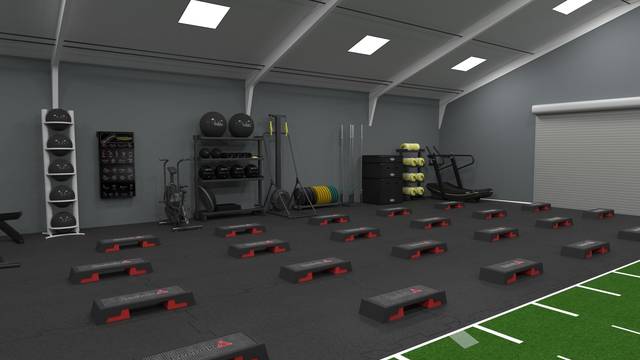 Personal trainer opens studio on Barnston Estate
We're delighted that a former athlete who posted free online workouts on his social media during lockdown is opening his first fitness studio in Farndon.
Gareth Preston is set to open Aptitude Health & Fitness inside one of our warehouses on Monument Place business park in Farndon next month.
Monument Place business park is part of the Barnston Estate and is surrounded by beautiful countryside and has views over to the Welsh hills.
Gareth, a fitness instructor and personal trainer from Huntington, Chester, has a background in athletics after competing at national level as a sprinter.
He said: "I have always wanted to open my own gym and Aptitude is everything I think fitness should be about – fun, varied, accessible for all, affordable and results driven.
"My passion has always been helping people achieve their goals and finding the best way to do that while accommodating lifestyle. I want to help as many people as I can in the local area to achieve their fitness goals and we will be offering classes that nobody else does in the area.
"I've been looking for the perfect location for a while and Monument Place in Farndon is just that. Located in the middle of the beautiful Cheshire countryside we have plenty of space to train indoors or outdoors. There is no other facility this side of Chester that offers what we will offer and we aim to develop one of the best fitness facilities in the North West.
"I strongly believe that during and after this pandemic that health and fitness will be a vital part of our lifestyles and incredibly popular.
"I want to create a facility in Farndon that the community can be truly proud of and I'm delighted to have the support of the Barnston Estate."
There will be 39 classes a week initially with plans to add more as the business grows and a private personal training studio. Alongside flexible pay-as-you-go classes Gareth is offering 50 Founder Memberships with special benefits.
We're delighted to welcome Gareth and his team to Monument Place and believe that Aptitude Health & Fitness will be a great addition to the area.
If you are interested in becoming a tenant at Monument Place please get in touch with our land agent Ed Clark at Fisher German - www.fishergerman.co.uk - or email edward.clark@fishergerman.co.uk

Pagination